Diving in the Molnár János cave
We opened our dive center in 2015. The diving is special in the Molnár János cave because the water is warm (20-28 Celsius degrees) all year round and crystal clear, and there are exciting stone and crystal formations on the limestone walls. There are no strong currents within the cave, the water flows very slowly.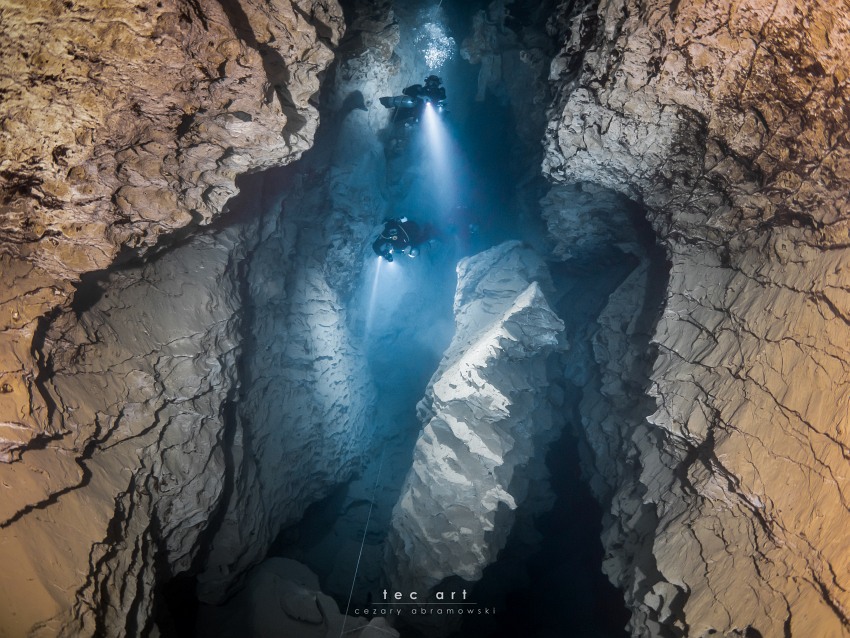 In our diving center you'll find quality service: experienced dive leaders, state of the art facilities and all the necessary equipment. We welcome all certified cave divers who would like to see the wonders of the Molnár János cave.
If you're interested in other dives in Budapest, we regularly organize visits to the Kőbanya Mine. Please contact us for details.
---
Diving in the Kőbánya Mine
In the Eastern side of Budapest, there is a labyrinth of limestone passages. Many of the iconic buildings of the city were built from this limestone. Later winemakers used them as cellars, and from the 20th century, Dreher Brewery owned the place. During WW II a hidden plane engine factory was here. Nowadays some of the rooms underwater: you can dive in the cold but clear water some exciting parts of the Mine. Although most of these underwater industrial remains can be dived only with cave certification, one of the spots is accessible for all divers. You shouldn't expect a typical mine diving, these are basically flooded rooms and cellars of a factory, so there aren't rails but stairs.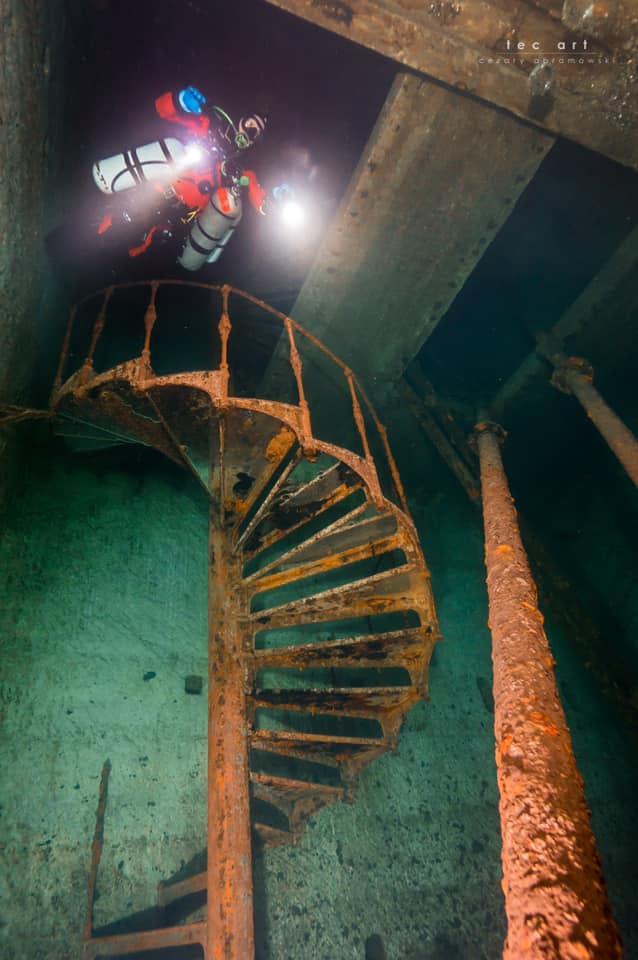 ---
If you would like to know more about the conditions of the diving (either Molnar Janos or Kobanya) please write us to the address. We are the only licensed dive center in the Molnar Janos cave so if you plan a visit contact us well in advance.
You don't have to be a certified cave diver to dive in the Molnar Janos Cave or Kobanya- but you need to have at least Advanced open water diver certification and you have to be an experienced diver. If you have the necessary experience, you can attend an Intro to cave diving. Write to us for details!
We welcome all divers regardless of their equipment setups, so you can dive with a rebreather, sidemount, trimix or any other setup if you have a certification to use that.
Diving prices (euro)
The new price list is valid from 01.01.2022. To see the detailed price list, please click here
| | | | | |
| --- | --- | --- | --- | --- |
| Guided Cave Dives | 1 dive | 2-4 dives | 5 + dives | Group |
| 1 dive 50-70 min, max 40 meters; | 60 euro/diver | 55 euro/diver | 50 euro/diver | Contact us! |
Number of divers in 1 group: max. 4 divers + dive leader
| | |
| --- | --- |
| 1 Long dive 90-150 min, max 40 meters | +70 euro/group |
| 1 Deep dive 90 -150 min, max 90 meters | +100 euro/group |
| Private guide | +50 euro/group |
| Cave intro dive (without cave certificate) 50 min | 70 euro /person/dive |
Rental Equipment price: Full set Backmount + Light set 50 euro / day
---
The MJCave Diving Center is an authorized Shearwater Demo Centre. Would you like to try the state-of-the-art dive computers of Shearwater, the Perdix, the Teric, or the Peregrine? Just write to us to the address for the details! If you like any models, you can also purchase them in our Diving Center!
For the latest news, videos and photos visit our Facebook page.
---
Related documents